We have a treat for you today. Today is our third edition of Author Vids! So what is an Author Vid? An Author Vid is where we send questions to an author and they answer them in a video they have prepared themselves. Today's guest author is Alexia Fraser, author of the wonderful memoir, Memories of Mom. After watching the video, please check out her website and book information following the video. And don't forget to follow Alexia on her virtual book tour January 3 – 27. You can visit her official tour page here!
And now I'm happy to bring you Alexia Fraser, author of Memories of Mom!
About Alexia E. Fraser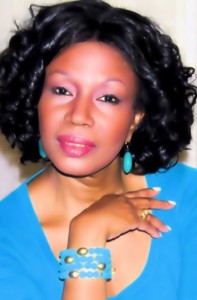 Alexia Elizabeth Smart-Fraser was born in the beautiful island of Jamaica. After marrying her high school sweetheart Edward, she migrated to the United States. She is the proud and loving mother of two children, son Sean and daughter Paige. Alexia studied acting at H.B. Studio. She worked as an extra on the set of "Cosby Mysteries" with Bill Cosby, "New York Undercover" with Malik Yubo, "Central Park West" with Lauren Hutton, and the series "Prince Street" with Mariska Hargitay. As well, Alexia Fraser has written and produced three original non-fiction one act plays both off-Broadway and off-off-Broadway. "The Ryans," "Dope the Endeavor" and "Blind Trust." Her fourth play "Our God is Awesome" is not yet produced, but will be in the near future. Alexia is the original founder and partner of her production company, Paige Unlimited, LLC (www.paigeunlimitedllc) of which she is the Creative Arts VP. Memories of Mom is Alexia Fraser's first published book. She was driven to share her story after seeing her mom suffered unacceptable nursing home and hospital care. Her second book is already partially scripted. "Write what you know" is what she believes.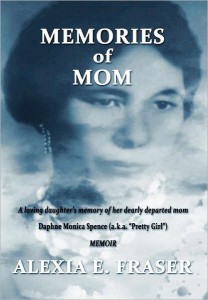 Blog | Twitter | Facebook | Amazon | Amazon Kindle | Lulu | Barnes & Noble
* * * * *

About Memories of Mom
Memories of Mom (M.O.M.) is a poignant story about an extraordinary mother, written by a daughter who loved and cared for her during her last lap of life. This story is written from the heart, and will inspire love and affection in millions of daughters and sons who will someday be caring for their elderly parents or loved ones. It is about undying love, unyielding sacrifices and compassionate role reversal. The circle of life.