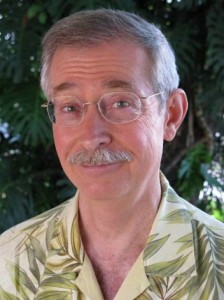 Richard Tillotson has been a Peace Corps volunteer in Borneo, a playwright in New York, a copywriter in Hawaii, and is a relative of an English Lord, all of which helped him write Acts of God While on Vacation, a National Semi-Finalist for the 2009 Amazon Breakthrough Novel Award and named "Hawaii's best fiction book of 2011" by The Honolulu Star-Advertiser. He works in Honolulu and vacations in Washington DC.
Amazon Blog | Amazon | Amazon Kindle | Createspace | Barnes & Noble | Borders | Arlington Avenue Books l Official Tour Page
About Acts of God While on Vacation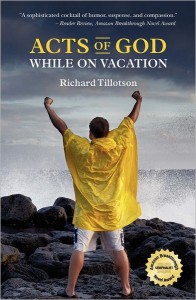 ACTS OF GOD WHILE ON VACATION begins with a death threat received by a philandering general manager of a lavish Hawaii resort, jumps to an anthropologist researching headhunters in the jungles of Borneo, then to a demonic, scandal-mongering paparazzo in New York, and on to a gorgeous, party-loving English aristocrat in London. Alternately desperate and hilarious adventures draw them all to Waikiki, where their arrival coincides with an international conference on shamanism and a catastrophic, force-five hurricane. ACTS OF GOD WHILE ON VACATION was a National Semi-Finalist for the AMAZON BREAKTHROUGH NOVEL AWARD.
Q: Thank you so much for this interview, Richard!  Can you tell us where you are from?
I live in Honolulu, but I was born in Hackensack, grew up outside Chicago, lived in L.A. and Boston, went to school in Iowa and Seattle, worked in Borneo, vacation in Washington DC, and some of my family live in London.  So… all over, I guess.
Q: How did you come up with the title?
I was halfway through writing the book when the title came to me.  It made me laugh, which since I was writing a comic novel, seemed like a good sign.
Q: They say you can judge a book by its cover.  Can you tell us a little about your cover and who designed it?
The cover was designed by "Team Fusion" at Createspace.  I loved their design idea, but they had to use a stock photo that looked like a beach in New Jersey, and this novel is set in Waikiki.  I organized a photo shoot, and a professional photographer, David Murphey, took the shot out on Magic Island on Oahu.  It happened to be a very rainy, stormy day, which is not usually want you want for a photo shoot in Hawaii, but it was perfect for us.
Q: Can you tell us something about your book that would make me run out and buy it?
It's received rave reviews so far.  The Honolulu-Star Advertiser, which is Hawaii's major newspaper, named it "the best Hawaii fiction book of 2011."
Q: Are there any messages in this book that you want the reader to know about?
I think it was Louis B. Mayer in Hollywood who told his writers, "If you want to send a message, use Western Union."  I believe the only message I should send here is where people can buy the book: on Amazon, print or Kindle editions.
Q: What was your most favorite chapter to write and why?
I was aiming for chapter thirteen because I thought it might be something no one had ever quite done before.  It's an entire chapter of nothing but dialog with no narrative, no speech tags, and around a dozen characters speaking.  Because the readers know the characters so well by then (I hope), they still know who is talking to whom and why each character is saying what he/she is saying, even if other characters don't.  I wasn't just doing wheelies with this.  I think there's a larger point being made, but the readers will have to decide if that's the case.  That particular chapter was great fun to write, but the truth is, so were all the other chapters at the time I was writing them.
Q: Why did you feel you had to write this book?
I needed to find out what was going to happen.
Q:  Now, some fun questions – What deep dark secret would you like to share with us?
I hold two United States Patents.
Q: If you could travel anywhere in the world, where would it be and why?
My wife's in New York on a business trip this weekend, and the Giants won the Superbowl.  It would have been fun to be there with her.
Q: Are you a morning person or a night person?
Ya gotta do what ya gotta do.
Q: Are there any members in your family who also like to write?
Every one.  A number of them professionally.  I'm the only novelist so far, however.
Q: As a child, were you a dreamer?
Every child is a dreamer.
Q: Last but not least, the magic genie has granted you one wish.  What would that be?
World peace.  (Wasn't this particular question borrowed from the Miss America Pageant?)
Q: Thank you so much for this interview! Do you have any final words?
I like John Barrymore's final words which were, "Dying is easy.  Comedy is difficult."  (Thanks for having me.  I hope you enjoy the book!)